Western Australia Metal News
Just added a review of the awesome Cannibal Corpse show in Perth recently done by Ivana Luketin. General consensus is it was a great gig and thanks to Soundworks for bringing them down to Oz. Go here to read the review.
Also, I'll take this opportunity to mention that Western Front is looking for contributers for doing reviews of gigs and releases, and possibly interviews as well. If you feel you are up to the challenge then contact me via the contact form .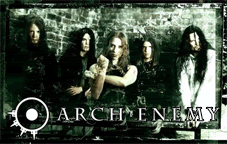 Swedish melodic death metal group Arch Enemy arrive in WA tomorrow (Tuesday, 16th October) for their side show at Club Capitol, Perth while on the Australian Gigantour tour with Megadeth (east coast only). Doors open at 8pm so get down there early to catch our own melodic death metallers Pathogen who are supporting. Tickets are available from 78 Records, Mills Records, Beat Music and Planet Video. Fans also have the chance to meet lead guitarist Michael Amott (Spiritual Beggars, ex-Carcass) at The Drum Shop - 345 Charles St, North Perth from 1pm-3pm
| | |
| --- | --- |
| | If you didn't see them with Cannibal Corpse on Tuesday night or just can't get enough, don't forget Tasmanian technical death metallers Psycroptic are playing two extra gigs for their Perth fans this Saturday! The first show will be an all-ages event held at HQ Skate Park, Leederville (doors open 12pm) supported by Claim The Throne, Gallows For Grace and The Alchemont. The second will be an 18+ show at the Charles Hotel, North Perth (doors open 8pm) supported by Grotesque, The Furor and Angelsai. |
| | |
| --- | --- |
| Cannibal Corpse's first Australian visit in 12 years kicked off in Melbourne last night. The US death metal icons head to Sydney next, followed by Brisbane, Auckland (NZ), Wellington (NZ), and Adelaide, before finishing up their Australian/New Zealand tour in Perth on Tuesday, October 10th @ Heat Nightclub, Northbridge. Tickets for the Melbourne and Adelaide shows have already sold out and Perth is likely to follow suit so, with only 6 days to go, if you don't have one yet then it would be wise to grab one prior to the show. Tickets are available from 78 Records, Mills Records and Beat Music. | |
As you can tell by looking at the gig guides there is a heap of stuff going on now and in the next few months, but I just thought I'd mention a couple of different ones - for the underages AND the folk that live down Rockingham way there is a gig tomorrow (Saturday, September 16) with metal heavyweights Plague headlining at the Castlerock. The gig goes from 6pm til 10pm and for more details check out the Castlerock website: http://www.castlerock.au.com
Another notable show is Malignant Monster's final show for 2006 which will be in support of Leaves' Eyes and Atrocity this Monday the 18th of September at The Amplifier. Malignant Monster will be on at 8.30pm so get down early to see the last dose of theirawesome brand of death-thrash for the year.