Western Australia Metal News
As you can tell by looking at the gig guides there is a heap of stuff going on now and in the next few months, but I just thought I'd mention a couple of different ones - for the underages AND the folk that live down Rockingham way there is a gig tomorrow (Saturday, September 16) with metal heavyweights Plague headlining at the Castlerock. The gig goes from 6pm til 10pm and for more details check out the Castlerock website: http://www.castlerock.au.com
Another notable show is Malignant Monster's final show for 2006 which will be in support of Leaves' Eyes and Atrocity this Monday the 18th of September at The Amplifier. Malignant Monster will be on at 8.30pm so get down early to see the last dose of theirawesome brand of death-thrash for the year.
There are plenty of international bands touring Australia throughout September so don't forget to grab your tickets if you haven't already!
| | |
| --- | --- |
| | US heavy rock act Atreyu wind up their tour with 36 Crazyfists (US), 3 (US) and Melbourne hardcore outfit Carpathian in WA. They will play 2 shows this weekend at Club Capitol, Perth, one an 18+ show on Friday, 8th September; the other being an under 18's event on Saturday, 9th September. You can get your tickets from 78 Records, Mills Records, Beat Music & Planet Video. |
| Swedish melodic metallers Dark Tranquillity kick off their Australian tour in WA (supported by Pathogen and Choas Divine) at Club Capitol, Perth next Friday, 15th September. Tickets are available through 78 Records, Mills Records, Beat Music & Planet Video. | |
| | Liv Kristine's Norwegian symphonic gothic metal band Leaves' Eyes and German industrial gothic metal group Atrocity perform at the Amplifier Bar, Perth on Monday, 18th September (supported by Malignant Monster). Tickets on sale from Music Finder, 78 Records, Mills Records, CD Library Fremantle & Dada Records. |
| US industrial heavyweights Fear Factory, accompanied by US new wave metal band DevilDriver, will play at Metropolis, Fremantle on Tuesday, 19th September. Tickets available now through Bocs Ticketing, 78 Records, Mills Records, Beat Music & Planet Video. | |
| | Ozzy Osbourne guitarist Zakk Wylde performs with his band Black Label Society at Metropolis City, Northbridge on Thursday, 21st September. Get your tickets now from Ticketmaster and 78 Records. |
For full tour details and other information check out our gig guide and/or the related topics in our forum.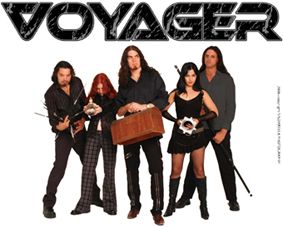 WA's melodic metallers
Voyager
travel to Europe next month and are holding a huge send-off gig this Friday, 1st September @ Club Capitol - 393 Murray St, Perth. Helping to celebrate will be support bands Malignant Monster, Plague and Pyromesh. There will also be giveaways and a guest DJ from RTRFM's Critical Mass.
In Europe throughout September/October, Voyager will perform at a select number of shows including the
Progpower Europe
festival (alongside Ephel Duath, Textures and Scar Symmetry, among others) in the Netherlands. Additionally, they will head to Berlin's
Popkomm
music exhibition to help promote the band and their up-coming album
uniVerse
, scheduled for release early '07.
Entry is only $10 and doors open at 8PM so get down there early so you don't miss out on some of WA's finest. Voyager merch will be available on the night, plus a Prime Cuts Music stand will be there for anyone looking to pick up a bargin.
A stack of Australian tours have been announced for the coming months. International artists such as Dark Tranquility, Black Label Society, Yngwie Malmsteen, Nevermore, Cannibal Corpse, Fear Factory, DevilDriver, Leaves Eyes and Atrocity are all scheduled to head down under before the year is out, and there are plenty more in the works.

Check out the calander for dates or have a look through the forum for more info.

Psycroptic (TAS) and Plague (WA) have been selected as the bands to nationally support US death metallers Cannibal Corpse on their up-coming Australian/New Zealand tour in October (yes, including Perth!). While they're back in the west, Psycroptic will also play an additional two shows (all-ages & 18+) over that weekend so watch this space and check out our forum for details soon.

In related news, please note that the venue for the Cannibal Corpse show in WA on October 10th has been changed from Club Capitol to HEAT NIGHTCLUB - 187 Stirling St, Perth. All tickets will still be valid and are still on-sale although it is advised that you grab your's soon as the venue change means less capacity and they are already selling fast.