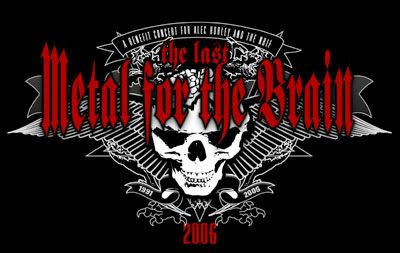 After 16 years and raising tens of thousands of dollars for Alec Hurley and the National Brain Injury Foundation, the organisers for Canberra's
Metal For The Brain
festival (Australia's premier extreme music festival) have announced that this year will be the finale.
Headlined by very special guests brutal death metallers Skinless (US) and featuring 40 of the country's top extreme acts (including Alchemist (ACT), Fuck...I'm Dead (VIC), Alarum (VIC), Infernal Method (NSW), Lord (NSW) and WA's own Choke, The Furor and Plague, among others), the event will take place at the University Of Canberra Refactory on November 6th. Tickets are on sale through
Ticketek
now.
Unfortunately, the show's costs and expenses continue to grow and are becoming increasingly hard to buget and plan for. The organisers would like to send out their thanks and respect to the huge amount of fans and bands that have participated in the shows over the years.
To anyone who hasn't grabbed a copy already, this month's issue of UK extreme music magazine Terrorizer contains a 5 & a 1/2 page "Scene Report" on Australian metal! The feature includes profiles for bands including Alarum, The Amenta, Psycroptic and Terrorust, among others; labels Grindhead Records and Battlegod Productions; and venues from around the country.

It also has interviews with Strapping Young Lad and the cover gracing US thrash metal legends Slayer, plus heaps more. As a bonus you get a FREE double-sided Slayer poster. If that isn't enough, there's also a FREE Fear Candy 31 17-track compilation cd, containing new songs from Stapping Young Lad, Skinless, Metal Church, Voivod and many others.
Goth musician and International Music Managers' Forum member Jacinta Arcadia (formerly based in Melbourne-now Amsterdam) of Australian Metal Touring is currently seeking bands for their European/Australian touring programs. Artist already signed up include Destroyer 666(VIC), Alarum (VIC), Rev Kriss Hades (NSW), Tourettes (NSW), and Dawn Of Azazel (NZ), among others.

In conjunction with AMT, Tourettes are scheduled to perform at Germany's annual Wacken Open Air festival this August during their tour through Eurpoe, while Destroyer 666 will venture to South America and Mexico for the first time as Australian Metal Touring branches out to the US. Anyone interested can check out the AMT website (www.AustralianMetalTouring.com). For more info you can also have a read through Arcadia's feature article and Wacken/Popkomm press release.
A stack of Australian tours have been announced for the coming months. International artists such as Dark Tranquility, Black Label Society, Yngwie Malmsteen, Nevermore, Cannibal Corpse, Fear Factory, DevilDriver, Leaves Eyes and Atrocity are all scheduled to head down under before the year is out, and there are plenty more in the works.

Check out the calander for dates or have a look through the forum for more info.

Psycroptic (TAS) and Plague (WA) have been selected as the bands to nationally support US death metallers Cannibal Corpse on their up-coming Australian/New Zealand tour in October (yes, including Perth!). While they're back in the west, Psycroptic will also play an additional two shows (all-ages & 18+) over that weekend so watch this space and check out our forum for details soon.

In related news, please note that the venue for the Cannibal Corpse show in WA on October 10th has been changed from Club Capitol to HEAT NIGHTCLUB - 187 Stirling St, Perth. All tickets will still be valid and are still on-sale although it is advised that you grab your's soon as the venue change means less capacity and they are already selling fast.